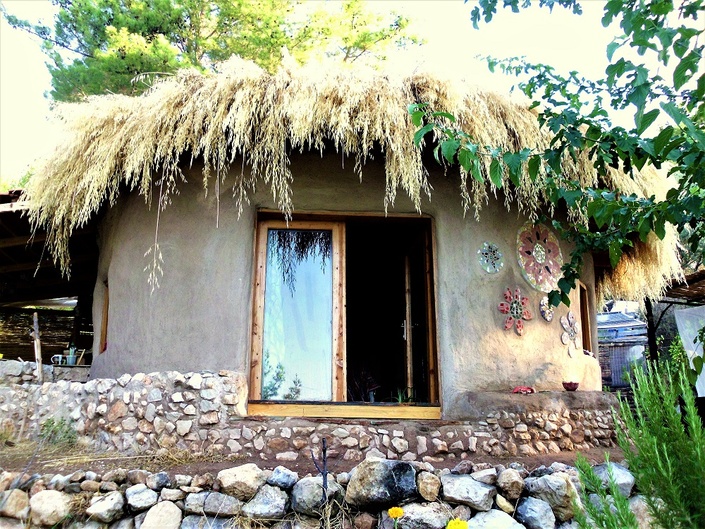 The Mud Building PDF Package
The Mud Home Information Posts in PDF Format
Would you like all The Mud Home information articles to take away and browse at your own leisure?
The Mud Home website has been running since 2012 and in that time I've written a lot of how-to and information posts about off-grid living, earthbag building, and natural construction. Now these information articles have been compiled, along with over 200 colour photos, into 6 info-packed PDFs.
"These PDFs are a must read for anyone looking at going off-grid or even quasi off-grid." Sandi Berumen
"These are great resources!" Jim Zack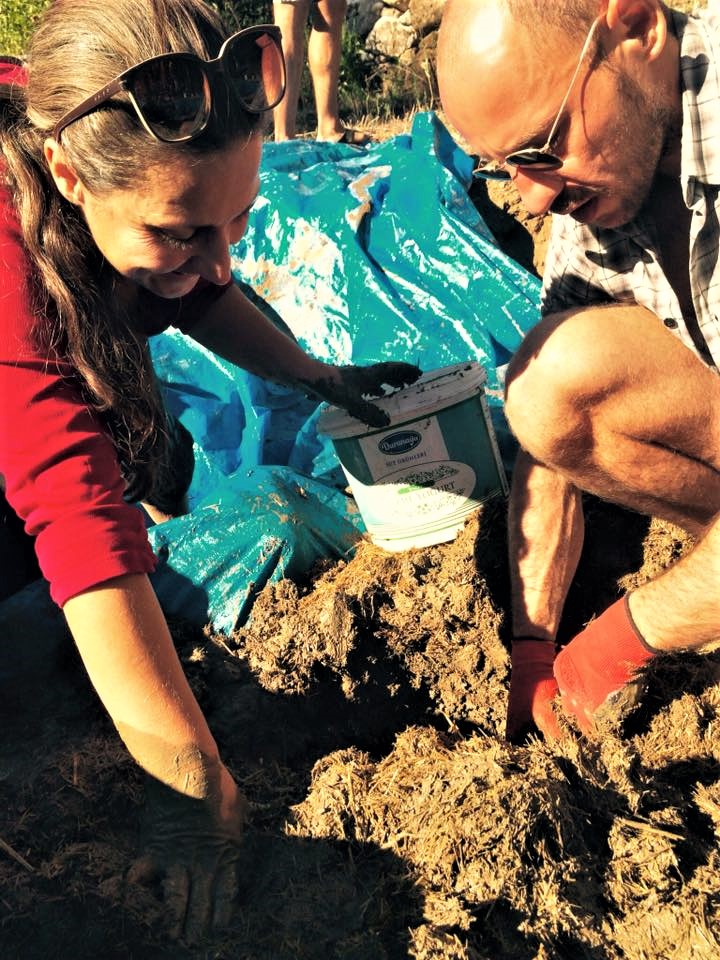 Here are the contents:




Sustainable Off-Grid Information PDF (2012-2018)
Composting Toilets (How they Work and How to Make One)
Two More Types of Composting Toilet
Creating a Regenerative Paradise in Guatemala
All You Need to Know about Solar Power
The Zeer Fridge
How to Make a Small, Successful Veggie Patch without Killing yourself, your Soil, or your Ecosystem
The Slacker's Guide to Preserving Fruit and Veg
To Compost Shower or Not?
Life without Concrete...is Solid, Dry, and Warm
Dealing with Critters and Pests in Your Home
The Circle of Life
Fear and the Other World
Building for Free
The First 10 Things to Organize When you Go Off Grid
Earthbag Building PDF (2012-2018)
The Beginners' Guide to Roofs for Earthbag
A New Way to Lay Earthbags
The Most Common Mistake People Make in Earthbag Building
How Much Does it Cost to Build an Earthbag House?
What Can I Put in my Earthbags?
Gautam and Kim's Earthbag Monsoon
Earthquake!
How does Earthbag Cope with Extreme Weather?
The Sacks
Gravel Foundations for Earthbag
6 Things Earth Walls and Skin Have in Common
Natural Building PDF (2012-2018)

How to Make Earth Plaster (Also Known as Clay Plaster)
Clay Plaster, Lime Plaster and Lime Wash. Are You Clear about the Difference?
Lime Wash: How and Why to Make it
Mud as Mortar
Mud Building Overview – Cob, Wattle and Daub, Superadobe, Adobe, and Rammed Earth
Experimenting with Limecrete
Mud, Stone, Tadelakt, and Horses
Insulating Earth Plaster
Cob, Straw Bale and Hybrid Houses in Cantabria
Building Mud Houses in Cold Climates?
How We Used to Build - The Troglodyte City of Dordogne
How to Build a Natural Home Legally
How to Make Cob and Earth Plaster Waterproof
The Garrison House, Wivenhoe
Making a Living Roof (That Sometimes Dies)
Camilla's Farmhouse Transformation (Earth Plaster on Non Natural Surfaces)
2019-2023 Updates
EARTHBAG BUILDING
Sun, Sea and Earthbag in Costa Rica
How to Build an Earthbag Arch
How Murat Made this Earthbag Roof
Brixton Earthbag (and How to Make a Living Roof)
Adding Windows and Doors into Earthbag Structures
Earthbag with Post and Beam
The 85-Year-Old Earthbagger
Rhonda's Earthbag Dome World in Mexico
Domes: Are You Sure You Want One?
Building into a Hillside (Berming)
Magnificent Earthbag Semi Dome in Turkey
When is the Right Time to Build with Earthbags?
NATURAL BUILDING

Lime Health and Safety
Which Natural Building Technique is Right for You?
Building with Bamboo for Beginners
Two Beautiful Ways of Using Lime as Paint
Which Kind of Lime? Putty? Hydrated? Hydraulic?
How to Make Lime from Scratch
Clay Plaster Expertise at Geeli Mitti, India
Five Ways to Make a Natural Floor
The Fairytale Cottage in Finland
The Bard in the Canadian Woods
How to Build a Strawbale House
How to Make a Limecrete Floor
8 Gorgeous Things You Can Make with Lime
The Right Way to Go About House Renovation (and Rescue 7 Dogs from Turkey)
When to Use Clay? And When to Use Lime?
A Most Original Cob Cave Bathroom
Divyalok Mud Sanctuary in India with Karen Shetty
How I Made My Wattle and Daub Bathroom
How to Make a Cob Chicken Coop
The Mud Home Guide to Natural Insulation
A Gorgeous Milk and Lime Bathroom
Cob and Earthen Plaster, What's the Difference?
Step By Step How My Angled Roof Was Made
How to Make a Cob Oven
A Balecob House in Idaho
How the Ancients Made Limecrete
6 Natural Roofing Options

SUSTAINABLE OFF-GRID

Foraging
How to Build a Road by Hand
Growing Food in Wet Climates
10 Ways to Survive Financially Off-Grid
The Mud Home Guide to Off-Grid Water
Rewild, Regenerate or Reforest?
Dealing with Red Tape for Off-Gridders and Natural Builders
Sustainable Off-Grid Business – How We Can All Create Change
Off-Grid Power - Do you want a 12 Volt/24 Volt/48 Volt System?
Growing a Medicinal Herb Garden
Water and the Web of Life
The Challenges and Rewards of Living Off Grid
Dealing with Rubbish Off-Grid
5 Reasons People Quit When Building Their Off-Grid World
The First 10 Tools to Buy When You Move to the Sticks

Note: The PDFs were last updated in Jan 2023.

Here are some samples of the PDFs.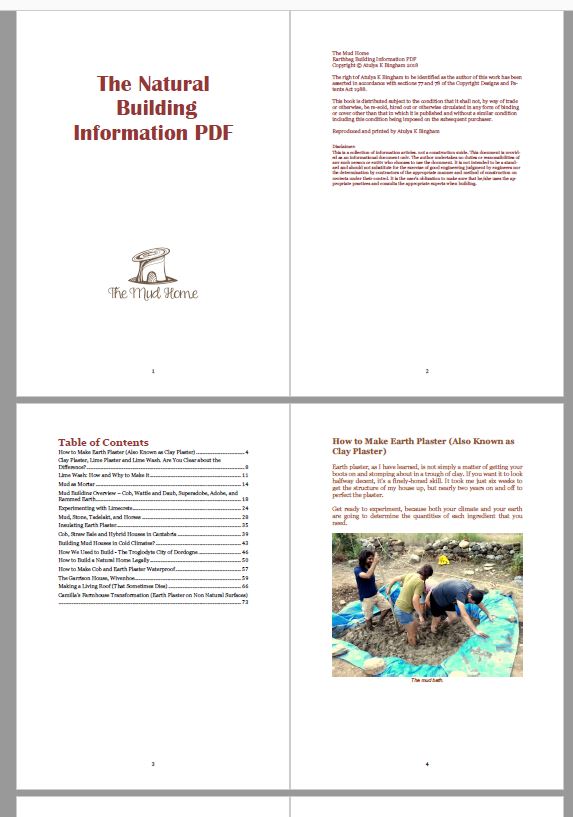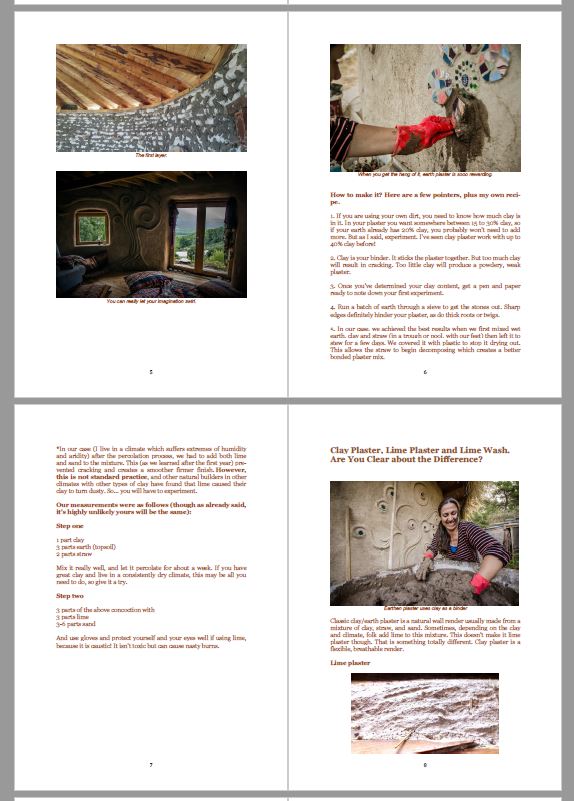 Your Instructor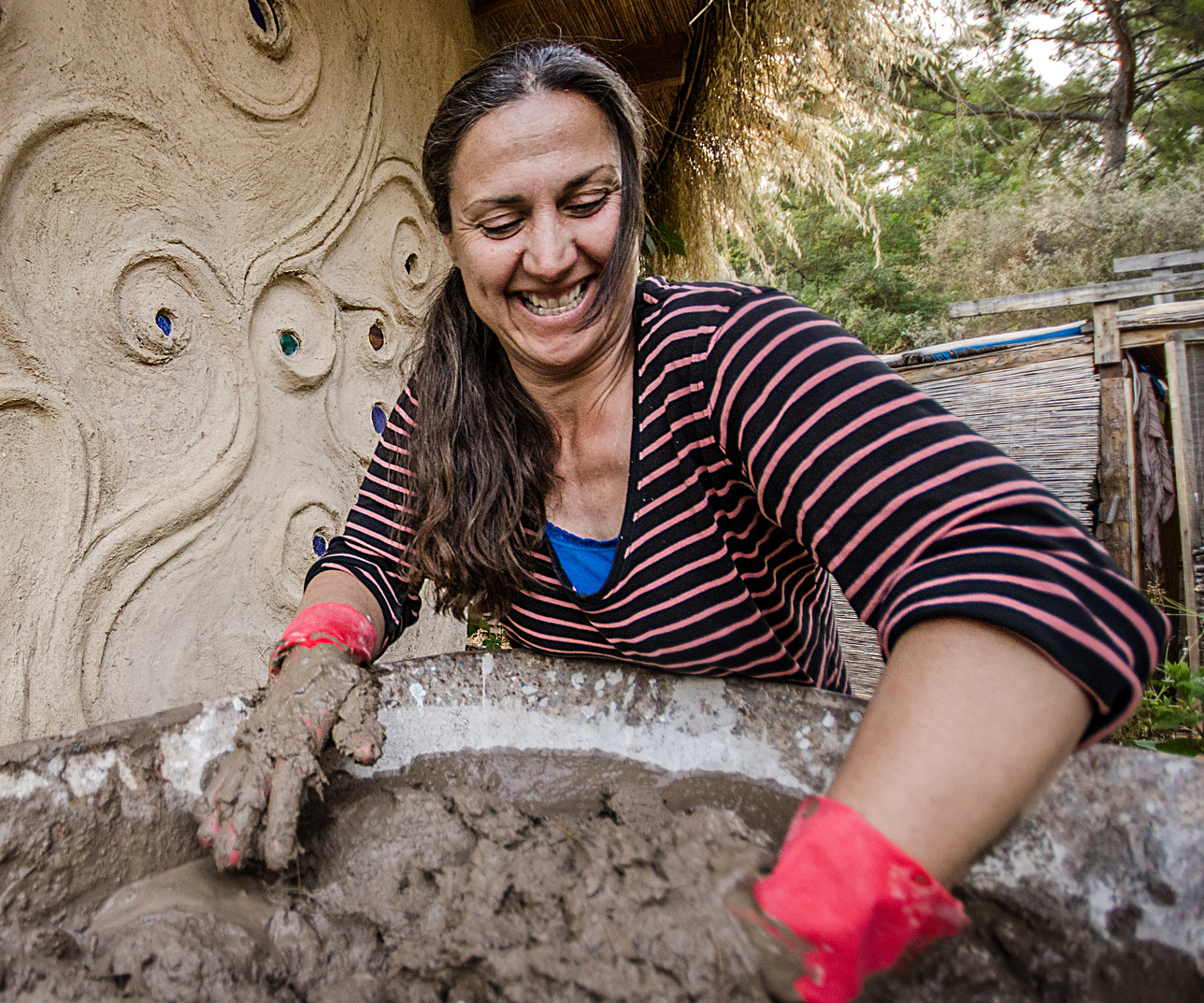 Hi! I'm Atulya. I've been living off-grid and building with mud for nearly ten years now. My love of natural building arose from nowhere. Back in 2011 I was living in a field in Turkey. Bit by bit, out of necessity I taught myself to build with mud. It became a creative passion. Within a year I had constructed a house. A year later I installed solar power. I have been in nature, mud building and writing about it ever since.

Today I am founder and author of The Mud Home natural building and off-grid freedom website. I also write about natural building for publications such as Mother Earth News and the Owner Builder Magazine.

Frequently Asked Questions
How long do I have access to this material?
After enrolling, you have unlimited access to these PDFs for as long as you like - across any and all devices you own. These PDFs will be updated every 6 months, and you will also have access to these updates.
What if I'm unhappy with the PDFs?
If you are unsatisfied with your purchase, or you find the PDFs weren't helpful, contact us in the first 30 days and we will give you a full refund. For all questions contact me at:
[email protected]
CONTACT

For any other information or for issues regarding these PDFs contact The Mud Home: [email protected]
Your email will be answered within 3 work days (usually there will be a response within 24 hours, but as I'm off-grid the internet can waver).
DISCLAIMER:
As mentioned in the PDFs themselves, all the content in The Mud Home website (and thus these PDFs) is provided for informational purposes only. The author undertakes no responsibility for any person or entity who chooses to use the information provided. It is not intended to be a standard and should not substitute for the exercise of good engineering judgment by engineers. It is the user's obligation to make sure that he/she uses the appropriate practices and consults the appropriate experts when building. It is the user's obligation to make sure they are following health and safety guidelines. The author is not responsible for any accidents, injuries or damages to persons or property incurred while using the information presented in these PDFs.